ESFR Fire Sprinkler
---
Product Origin:China Item No.:ESFR242 Payment:TT, LC Material:Brass Connecting Thread(Inch):DN20 Glass Bulb Colour::Red Fire Sprinkler Type::ESFR Temperature Raiting::74 Degree Certificate:CCCf
Advantages:
1.Cold and frost resistant due to the fusible alloy.
2.High pressure resistant and durable.
3.Quick response and higher fire extinguisher effect. K=16.8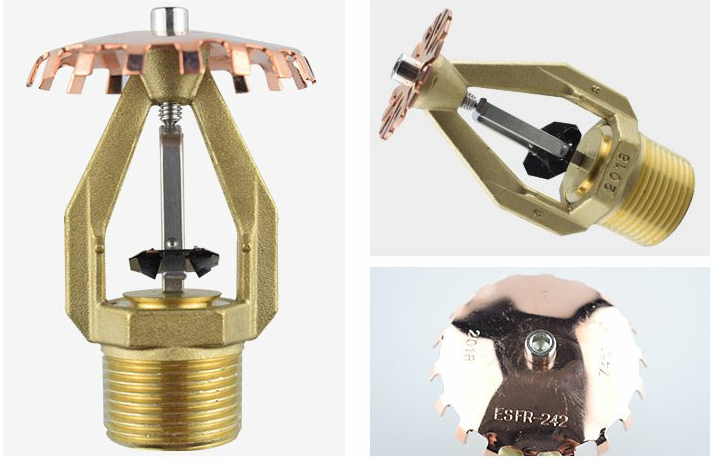 Specifications
(1 ) Nominal caliber: 20mm, connection thread: R3 / 4 "or NPT3 / 4", water supply branch ≥ DN50.
( 2 ) Flow characteristic coefficient : K = 242 or K=14.2.
(3 ) Response time index (RTI) is 28 ±8m ·s ~ (-1) ~ (0.5).
(4 ) Maximum working pressure: 1.2 MPA.
(5 ) 100% Ex-factory pressure test: 3.45MPA
(6 )Nominal action temperature: 68 ℃.
(7 )Maximum coverage area: 9.3 mm, maximum spacing: 3.05m.
Installation, Usage, and Maintenance:
During installation, should pay attention not to damage the bulb to avoid affect the thermal performance. In the process of wrench and twist, do not use spanner to wrench the supporting arm to deformation and affect the sealing performance (note: the bulb temperature can be chosen according to the needs of users)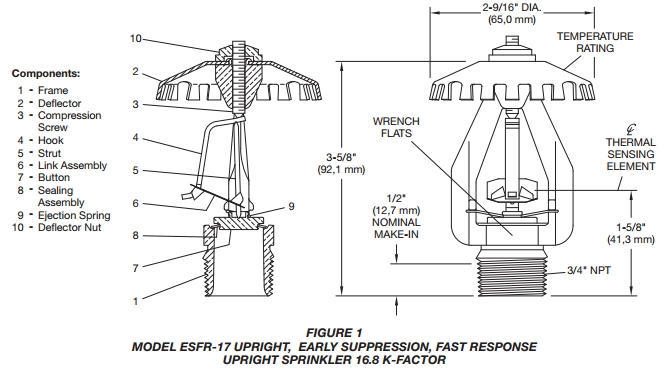 Application:
It is usually installed in areas with fire danger, including warehouses, shopping malls, hotels, hospitals, theaters, office building, high-rise building, garages and etc.
Related product to 74 degree centigrade K14.2 ESFR fire sprinkler
Note: Please leave your email, our professional person will contact you asap!